PRIVATE GONDOLA RIDE WITH A PHOTOSHOOT IN VENICE
GONDOLA PHOTOSHOOT IN VENICE
---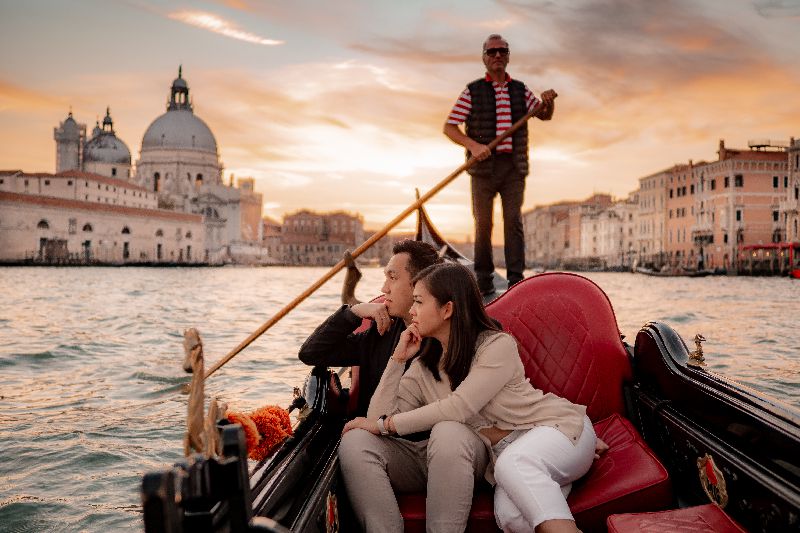 On the photo: "best venice boat couple idea" - romantic couple gondola ride on the sunset in Venice with Santa Maria della Salute in background.
If you are looking for the
best Venice gondola boat ideas for couples and girls
, you are in the right place. There's no need to say that
gondola photoshoot tour is a unique experience
to try at least once in your life. Still not sure
why to make a gondola ride during your individual, proposal, engagement, honeymoon, elopement, anniversary, pre or post wedding photoshoot in Venice
? That's a dream of millions. Let me explain why.
Why to see venice from the water must be on your bucket list?
Have you ever paid attention that almost all the
beautiful facades of the buildings in Venice face water canals
? In the past, nobles used to move in Venice only by
gondolas
. This is the reason why I recommend taking a gondola ride and seeing the Grand Canal and splendid Venetian palaces from the water. Exploring the beauty of the city by foot is undoubtedly an exciting adventure, but to truly immerse yourself in the grandeur of Venice, a gondola ride is an absolute must.
You'll feel like a Venetian noble of the past
, particularly when dressed in elegant attire. As a
professional gondola photogrpaher in Venice
I can attest that this experience is far too magnificent to settle for selfies and phone photos. The grandeur of the moment deserves to be captured through the lens of a skilled photographer, and I invite you to take a look at the stunning photos of my clients, that often book me as their first-ever professional photographer. I even created a comprehensive pdf guide titled "HOW TO GET READY FOR A PHOTOSHOOT," which provides them with specific instructions, so they know exactly what and how they should do to achieve the best photoshoot result.
Is it a romantic experience - gondola ride with venice photographer?
Definitely! I adore
photographing couples in gondolas
. It's a truly unforgettable
romantic photography experience in Venice
. It's usually a part of a city photoshoot (click here to check more ideas for a couple photoshoot in Venice), where we relax and enjoy the views, taking a couple of photos on the way. If you book me as your
Venice gondola photographer
, you can be sure, we won't take pictures all the time. I wait only for
the most picturesque photo locations in Venice
, the rest of the time you dedicate to the ride itself, admiring the historical palaces.
Where to take the best gondola ride in venice?
Based on your preferences and desired photo locations in the city, we select one of
the most instagrammable gondola rides
. I wouldn't recommend all of them. I suggest avoiding certain gondoliers, such as those located in San Marco square, who have been known to be unfriendly. A gondolier's personality can greatly affect the overall experience and memories of the ride. Additionally, the starting point of your gondola photo tour is crucial in capturing the best photos. With years of experience,
I know where to bring you
.
Is it a good idea to do a wedding proposal on gondola in venice?
Absolutely yes! I have several ideas on
how to do a perfect proposal during the gondola ride
, wheather your partner is aware of the photo session or not. I'll also ensure that the
background for your gondola proposal is breathtakingly beautiful.
You'll have a stunning Venetian view of the canals or one of the main sightseeings, such as San Marco square. After all, who wants a boring wall as a proposal backdrop? I have something better in mind! Click here to know how
I can help you as a proposal photographer and planner in Venice
. Feel free to message me for more information.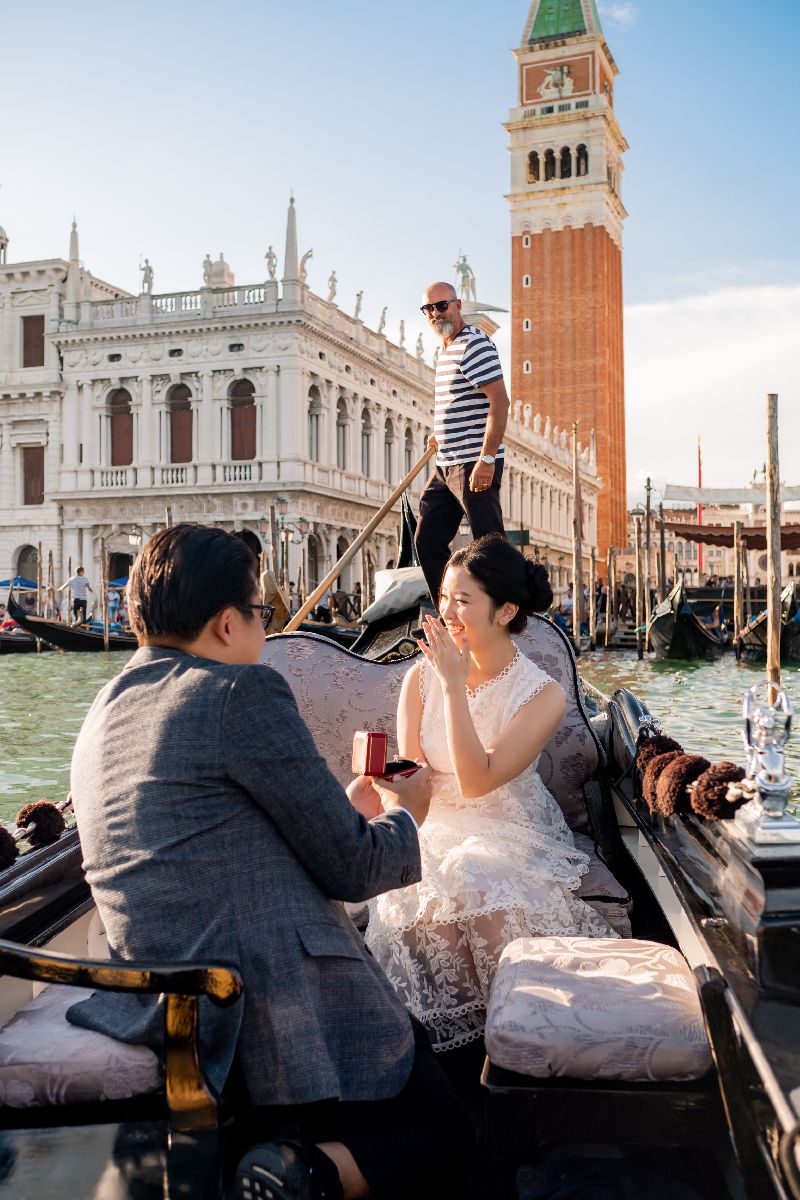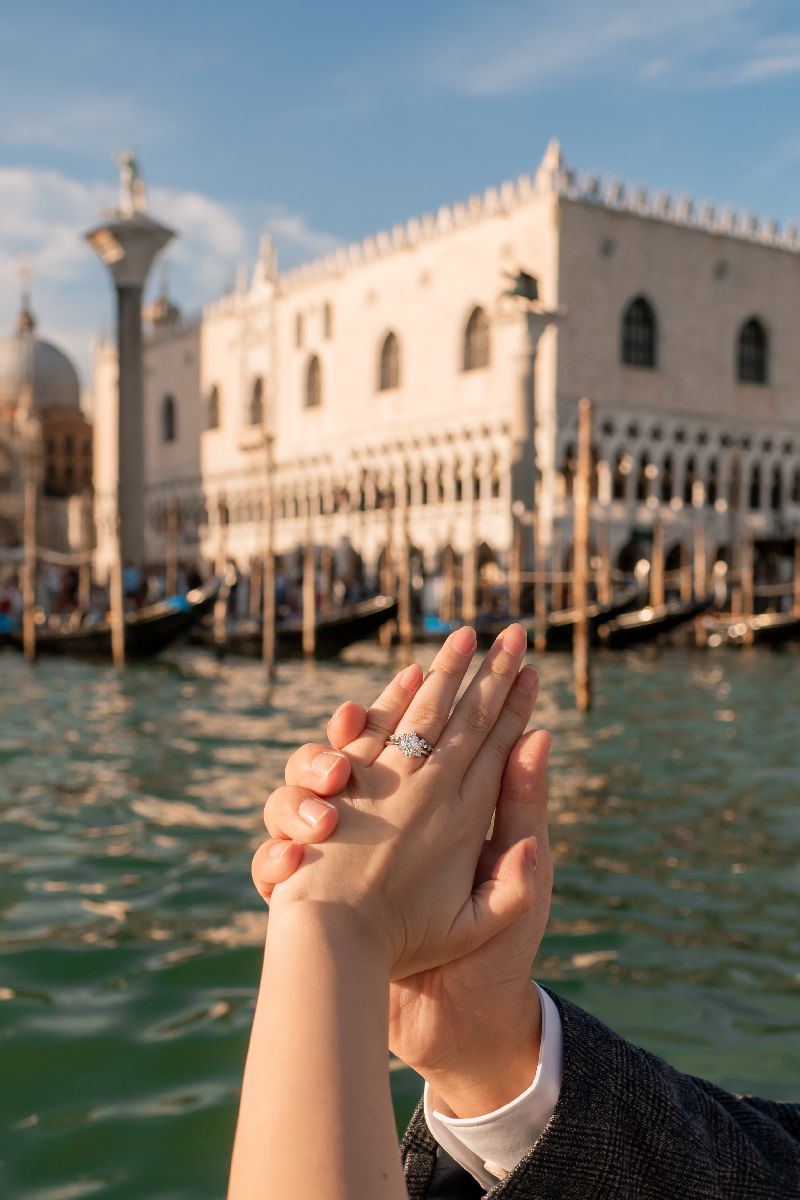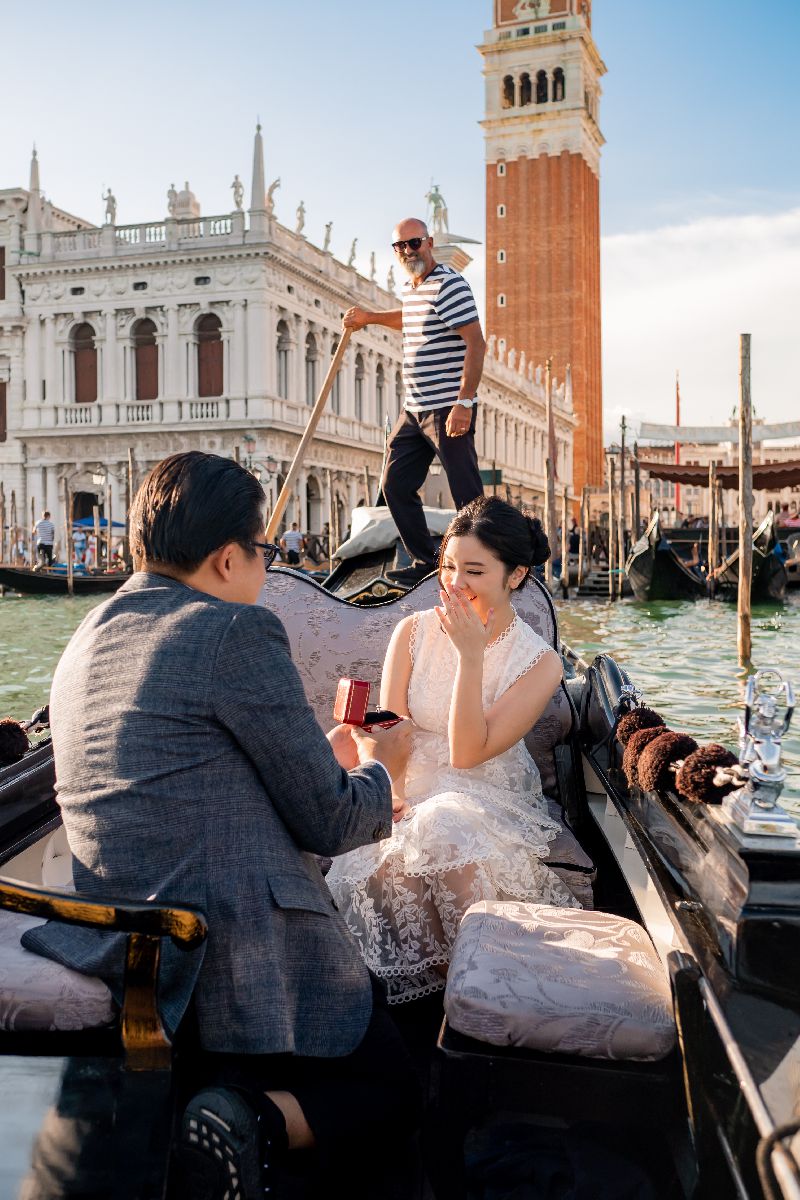 How much a gondola ride costs in venice?
Gondola rides in Venice
have
fixed rates
, starting at 80 euros for a 20-30 minute route between 9 am and 7 pm, and 100 euros at night. However, some Venetian gondoliers may try to persuade you into a more expensive and longer tour. During a photo session, they might even demand additional fees that aren't included.
It's advisable to talk to a gondolier beforehand and agree on the official price, and only if he looks nice, to accept the ride
. My clients usually tip courteous gondoliers for their excellent service, but I wouldn't recommend a gondolier who behaves aggressively. Your experience should be extraordinary, and you deserve the best!
And I'm here to help you achieve that.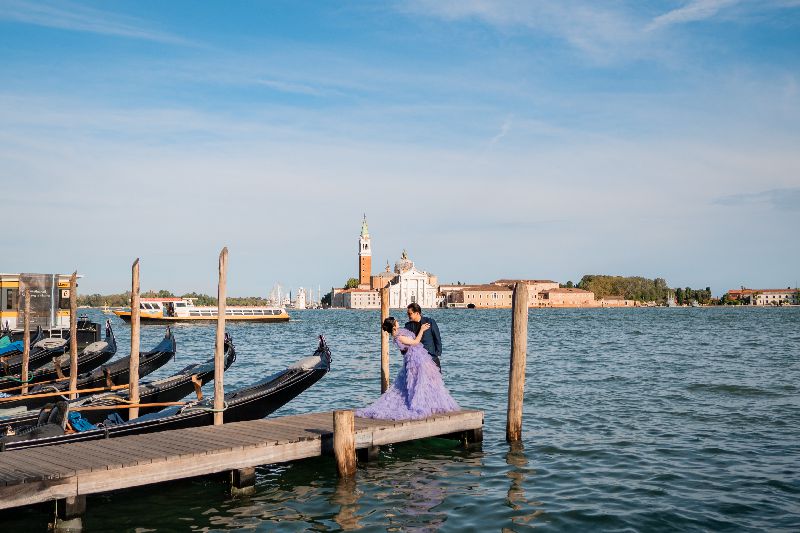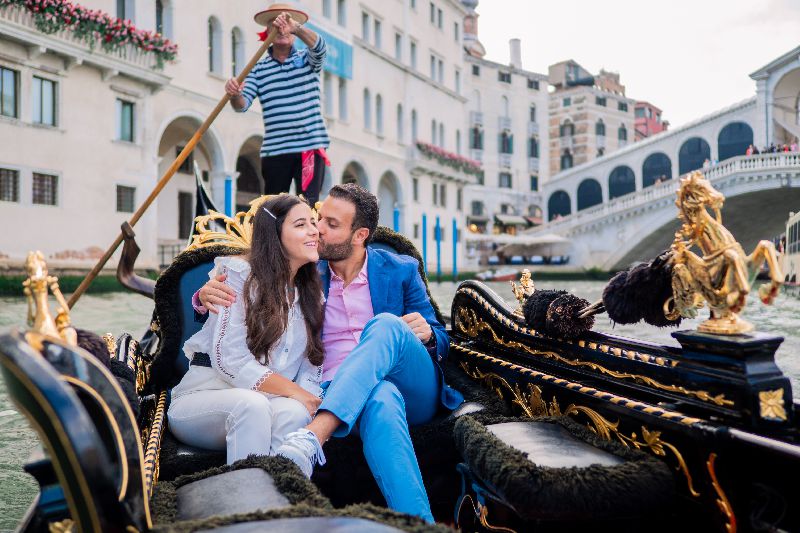 Is it worth to have a solo gondola ride with venice photographer?
Gondola photo ride is perfect for a solo trip, and I can already picture a stunning scene with a
gorgeous girl in a long elegant dress in gondola
. Don't be afraid to exagerate with the outfit, it'll look amazing. I'll even help you choose the perfect dress as I'm a
photographer and a stylist in Venice with impeccable taste
. It would be also a pleasure for me to share more portrait photoshoot ideas with you, follow this link. And remember that
renting a gondola for an individual portrait photoshoot in Venice
is the ultimate form of self-love
. You know, that you deserve it!
So, let's plan your gorgeous gondola photo shoot!
I'll be happy to create unique Venice gondola ride photo ideas for you.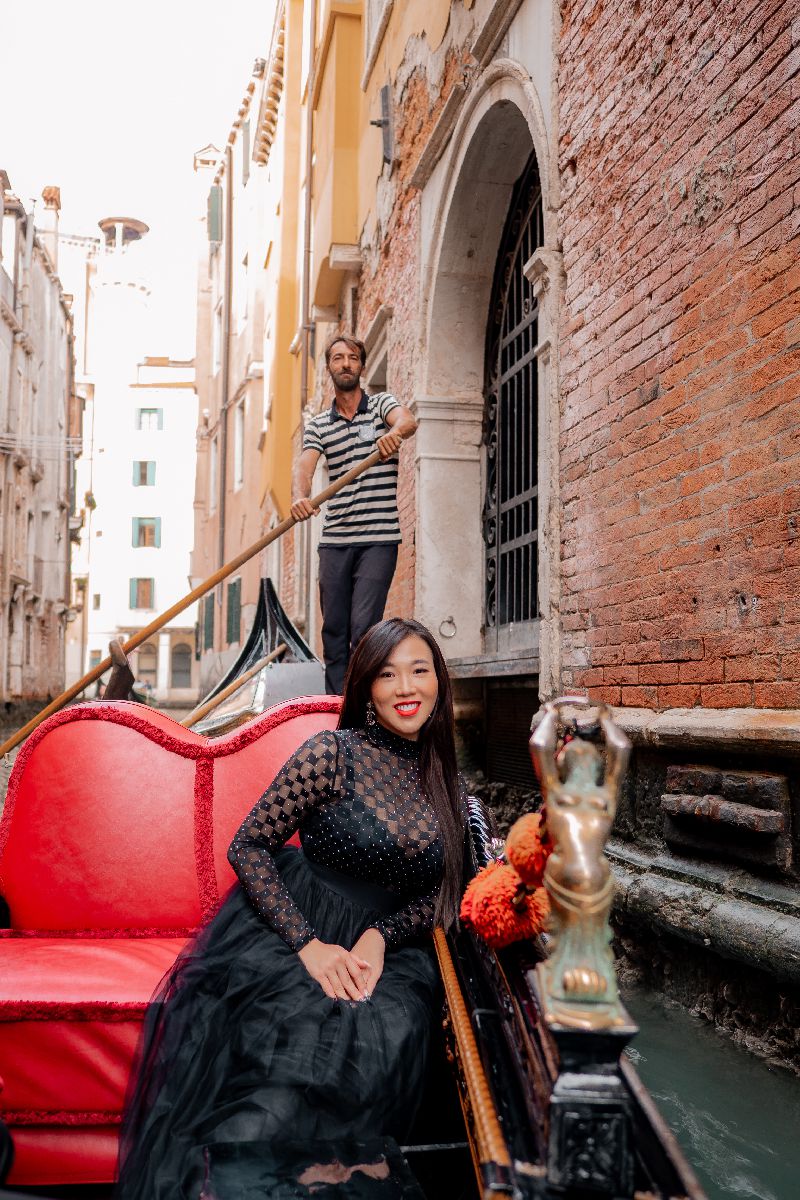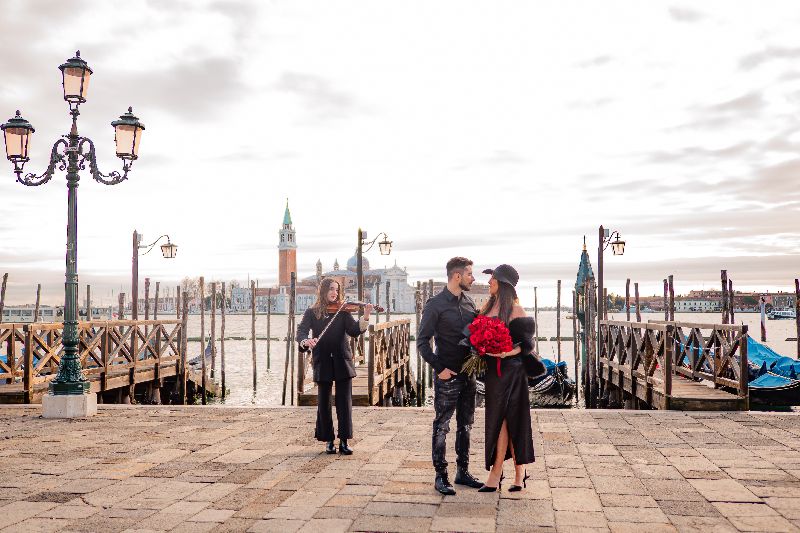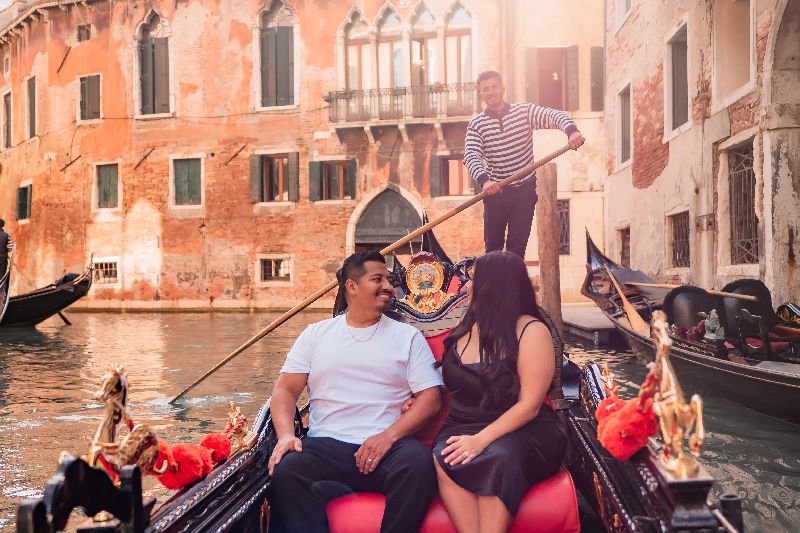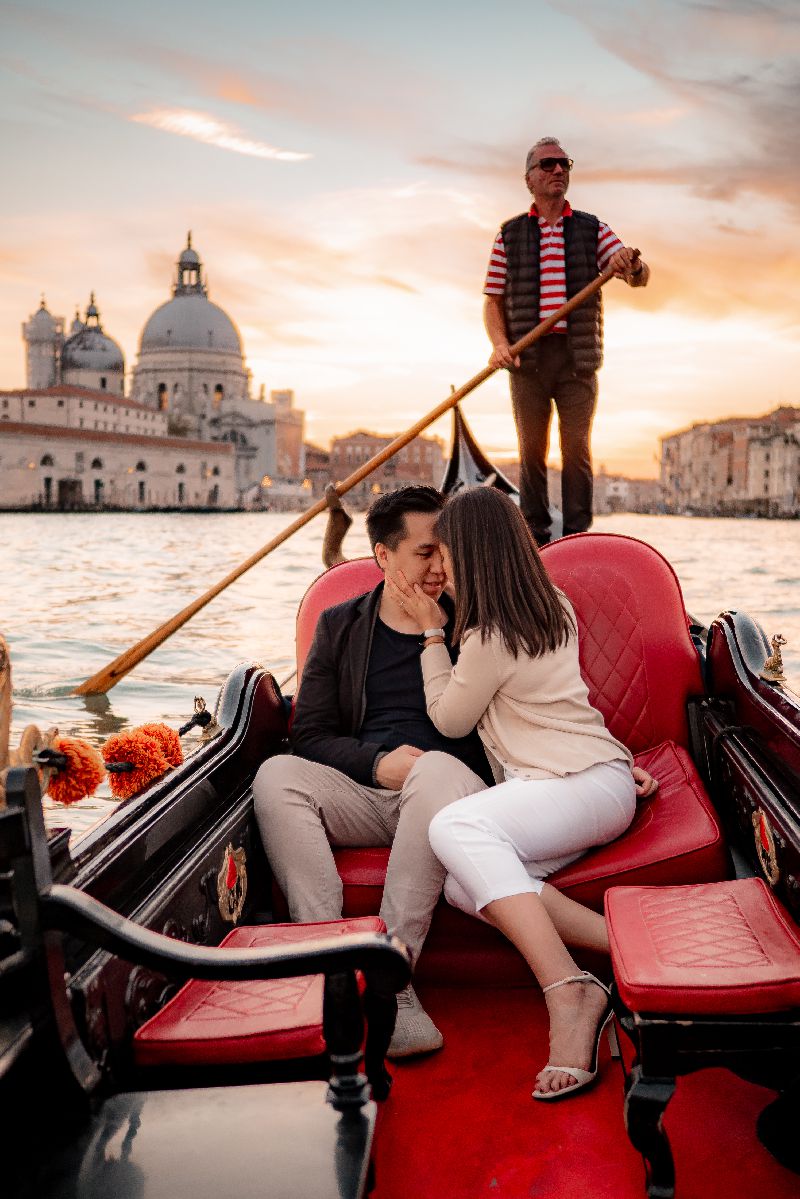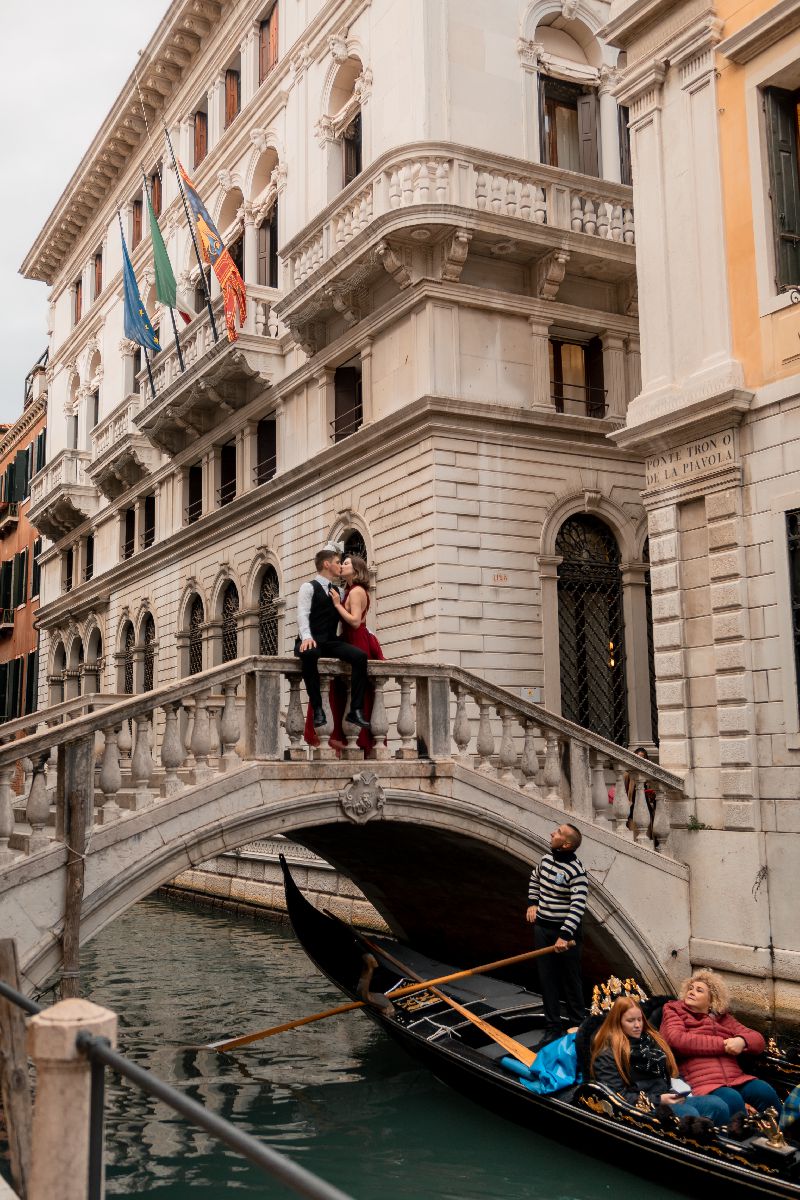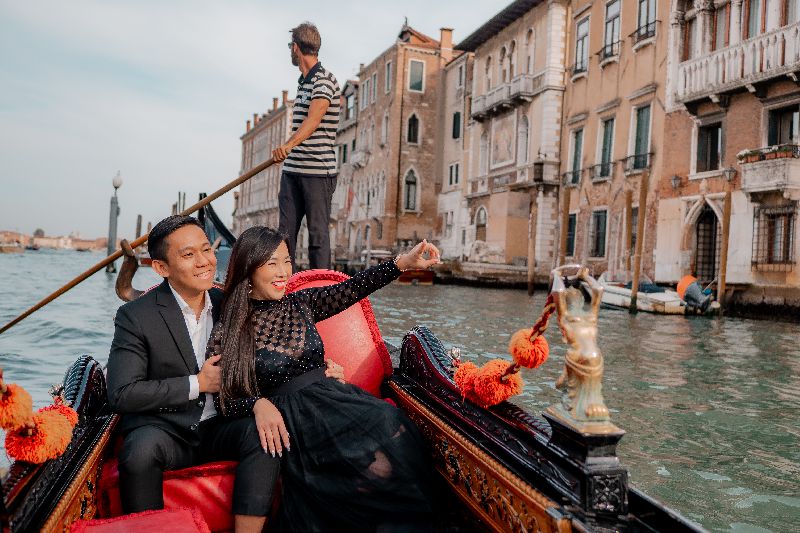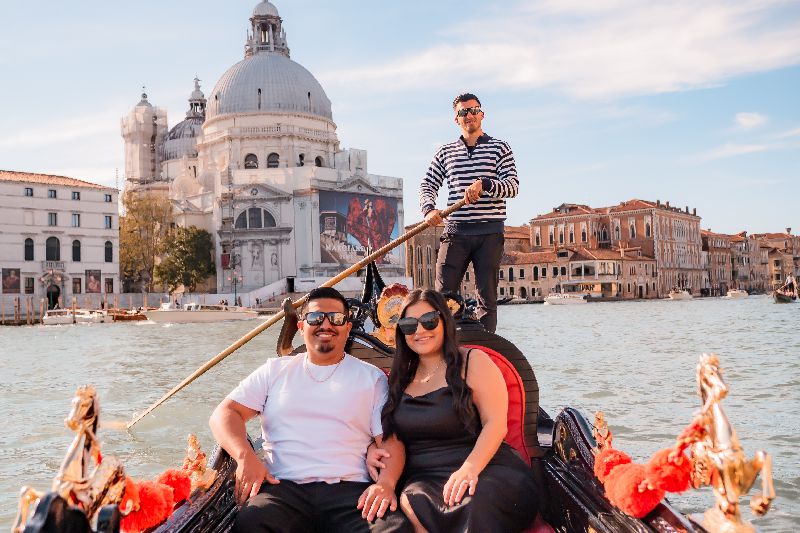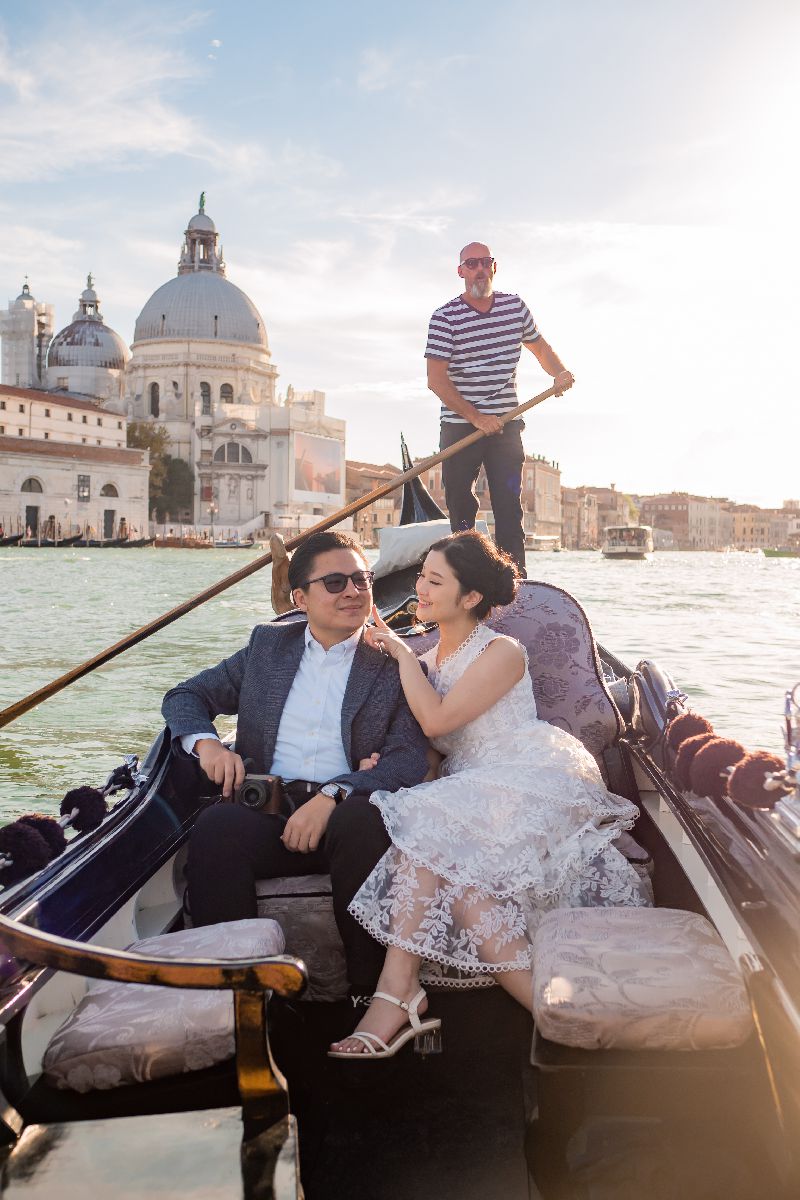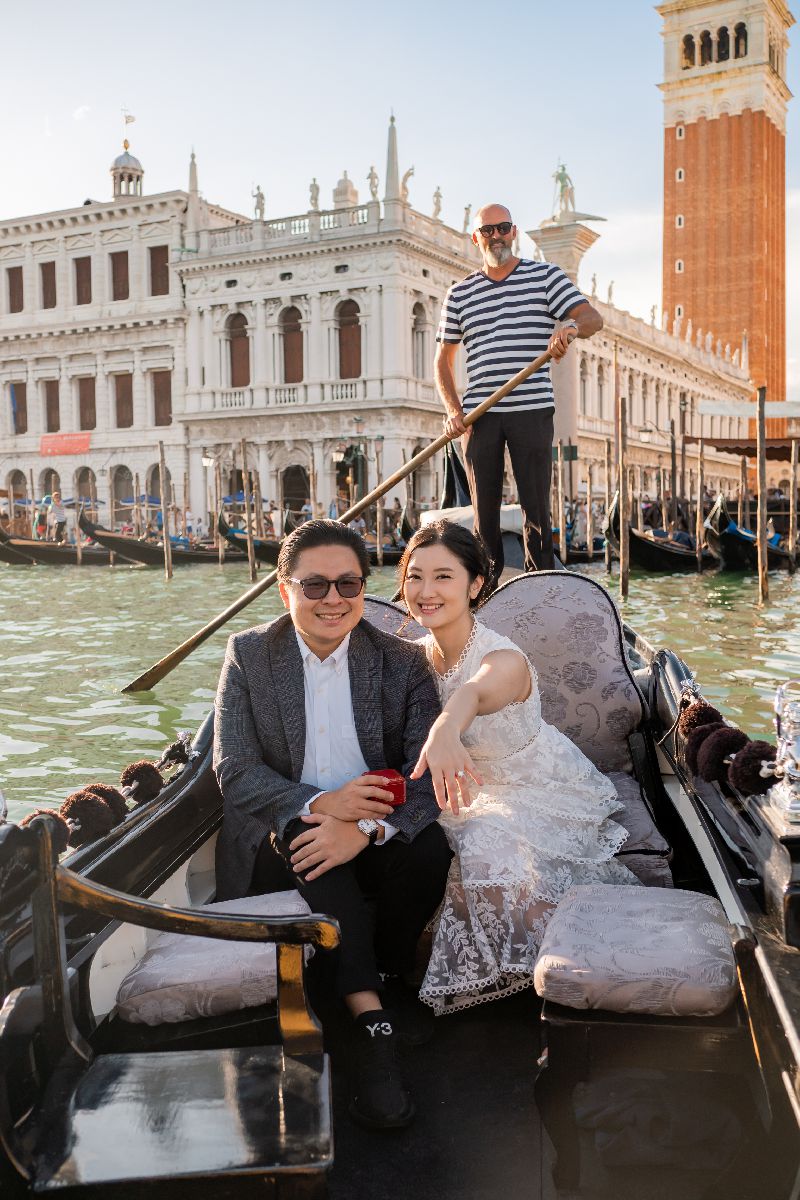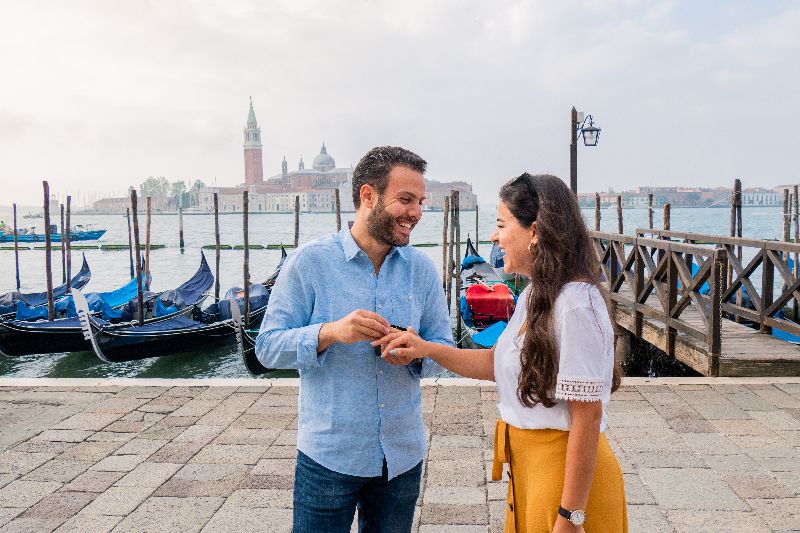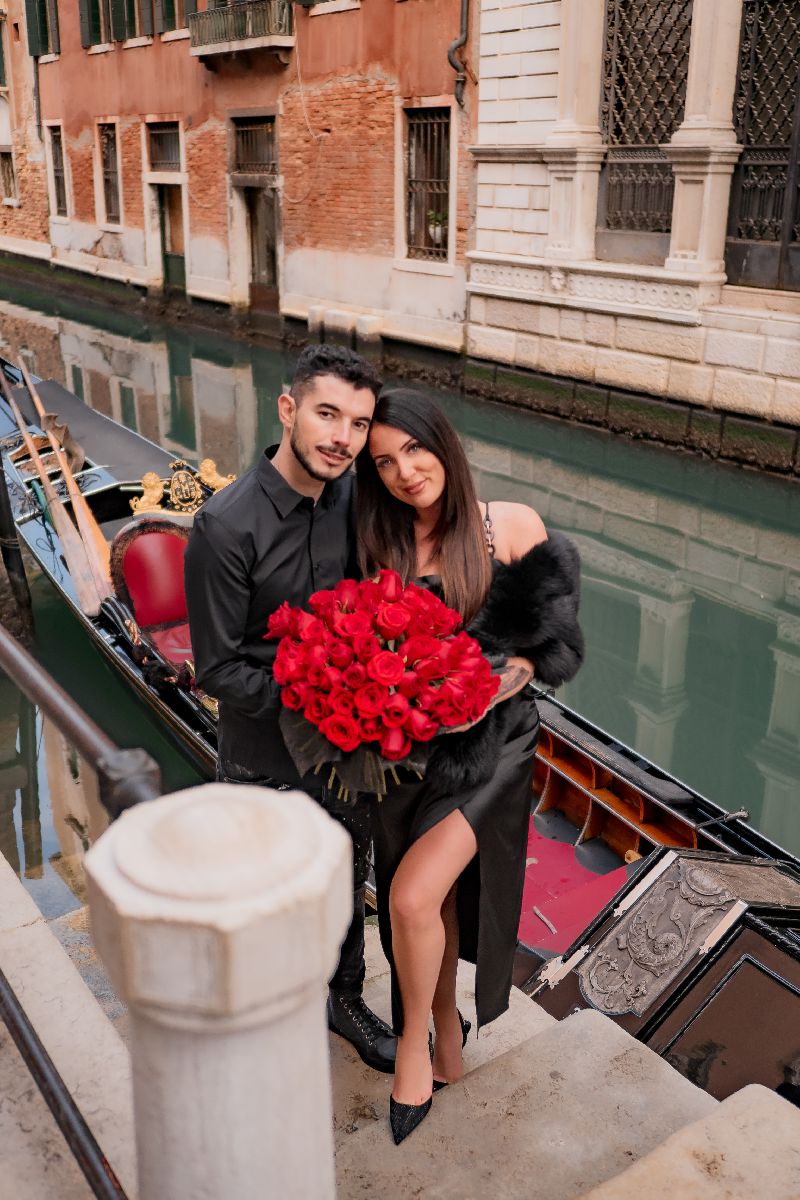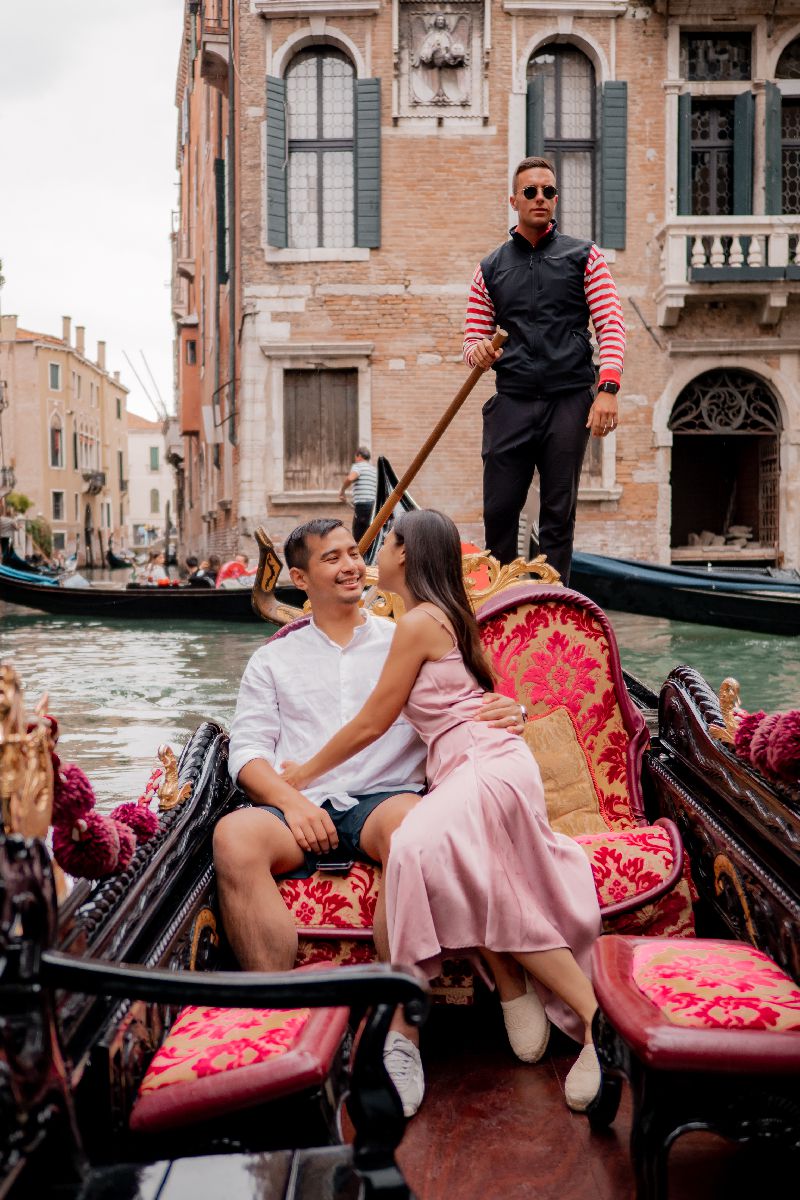 Tags:
Luxury Gondola Individual Photoshoot in Elegant Dress in Venice
Romantic Gondola Couple Photo Tour in Venice
Wedding Proposal in Gondola in Venice
Solo Gondola Ride with Venice Photographer