COUPLE PHOTOSHOOT IN VENICE
WHAT TO KNOW BEFORE PLANNING A PHOTOSHOOT IN VENICE: TIPS OF COUPLE PHOTOGRAPHER AND STYLIST
---
On the photo: Romantic couple photoshoot in Venice with San Giorgio Maggiore and Gondolas in the background.
I created this page to answer all the main questions you might have about couple photo shoots in Venice. Here you'll find information about the
top 10 instagrammable photo locations in Venice
,
when it's better to plan your Venice photoshoot, and what to wear
,
how to propose in Venice, and if it's worth doing a gondola ride with a photographer
. Pay attention to my photographs, you'll find many
couple photo ideas in the best spots in Venice
.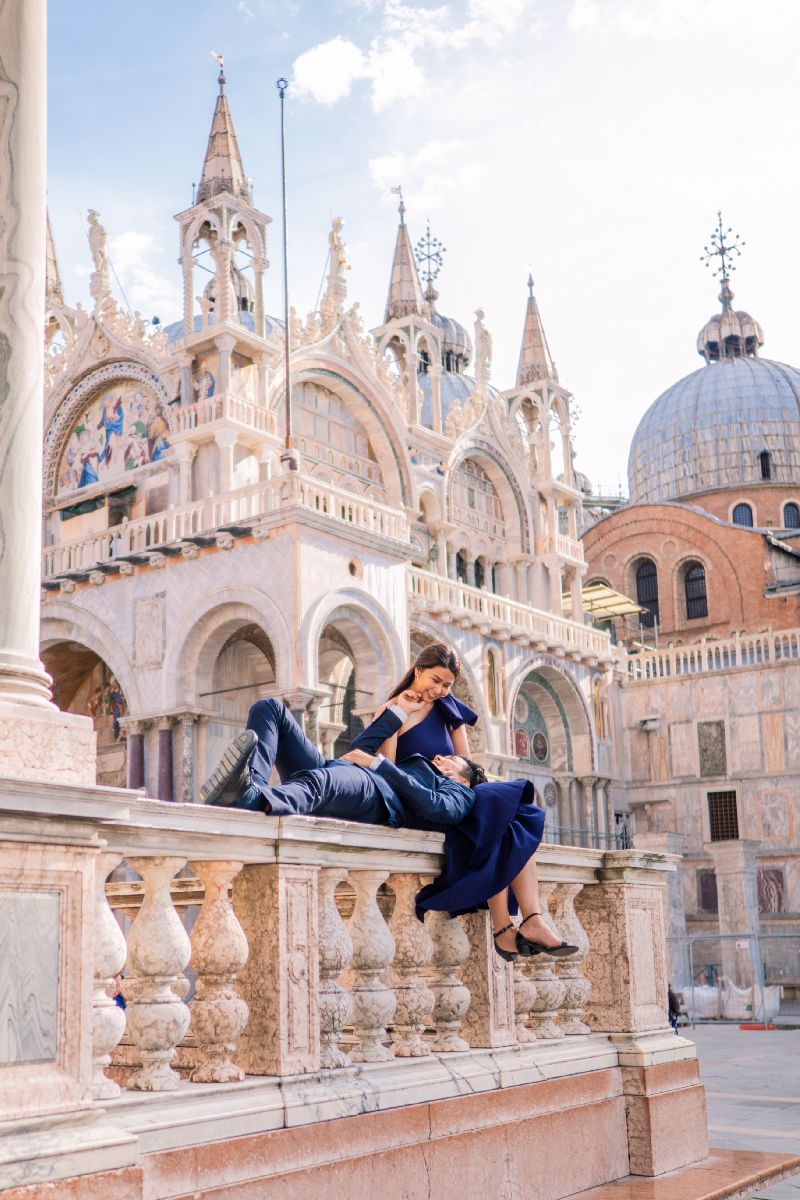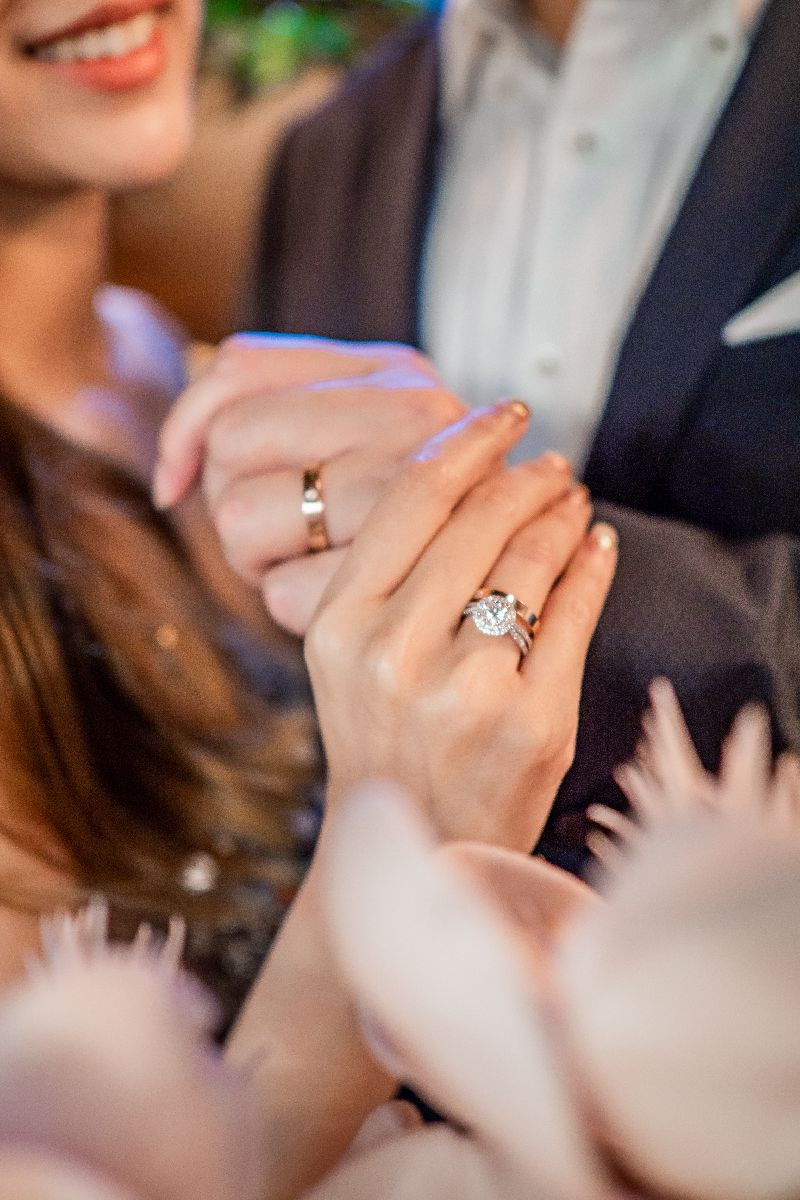 why venice is a perfect destination for your anniversary / honeymoon / engagement photoshoot?
It's a unique city on the water
that was built for nobles' vacations. Venice has a unique charm that makes you feel special. The stunning buildings lining the Grand Canal are not just nice, but magnificent! Moving around the city is only possible by boat or foot, making it an unparalleled experience. The Venetian style is different from everything else.
Even a casual photoshoot in Venice has a wow effect
. You can feel luxury and romance in the air.
I do recommend staying in Venice for at least two nights (I listed the most photogenic palace hotels here). This way you can enjoy live music on San Marco square after twilight when the majority of tourists go back to other cities, you really need to feel this magical atmosphere, believe me. I'll be honored to
shoot the best moments of your holidays in Venice
and
I'll help you to experience the city to the full
. A couple photo shoot is always the best souvenir that you can bring with you.
Nothing reminds you of your happy vacation as much as professional photos of the real you
.
is venice a good place to propose?
Definitely!
I've already planned and photographed many different magical proposals in Venice and other places in Italy
. It's surely the most difficult kind of photoshoot, but undoubtedly my favorite. I do want everyone to live this special moment as magically as I did thanks to my partner. The photos and videos we have are the best memory I could wish to have from that day. I won't even tell you how often I watch them. I'll be honored to take the
proposal planning and photography in Venice
on me. You'll need to relax and trust me. To know more about
personalized proposals in Venice
,
click here or leave me a message in the contact form.
are you a LGBTQ+ friendly photographer in Venice?
Love is love. I'll be happy to do your
same-sex couple photoshoot in Venice: contact me for your proposal, wedding, elopement, engagement
, or any other kind of photoshoot.
what is the best time of the day to do your photoshoot in venice?
I'll explain to you
what you should know before booking a photographer in Venice
or any other famous location.
The light
The atmosphere on the photo depends a lot on the light.
The skin tone is always more magical a couple of hours after sunrise and before sunset.
It's the exact time when you have soft colors and romantic photos. You can google the day of the year and the name of the city to know the exact sunset and sunrise hours.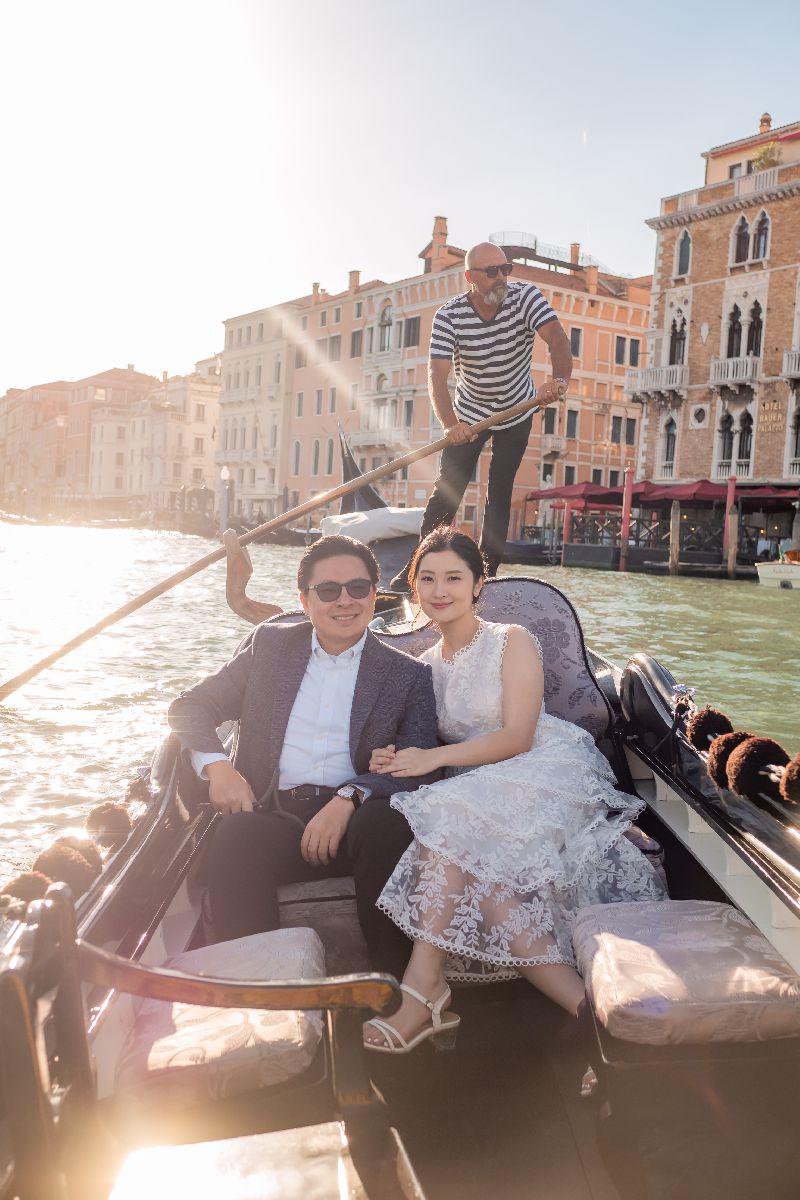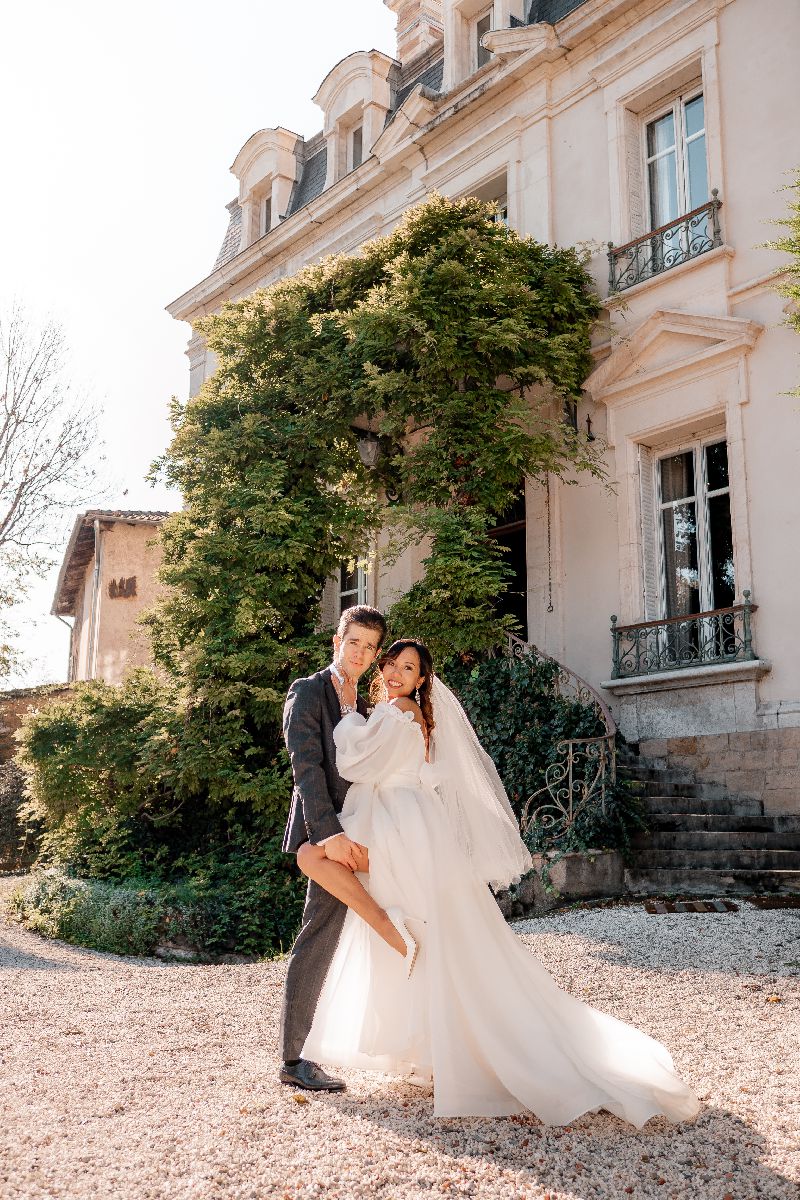 I know how to work with the most difficult daylight too
. The colors are more vivid and bright, but it's a little trickier to do close portraits.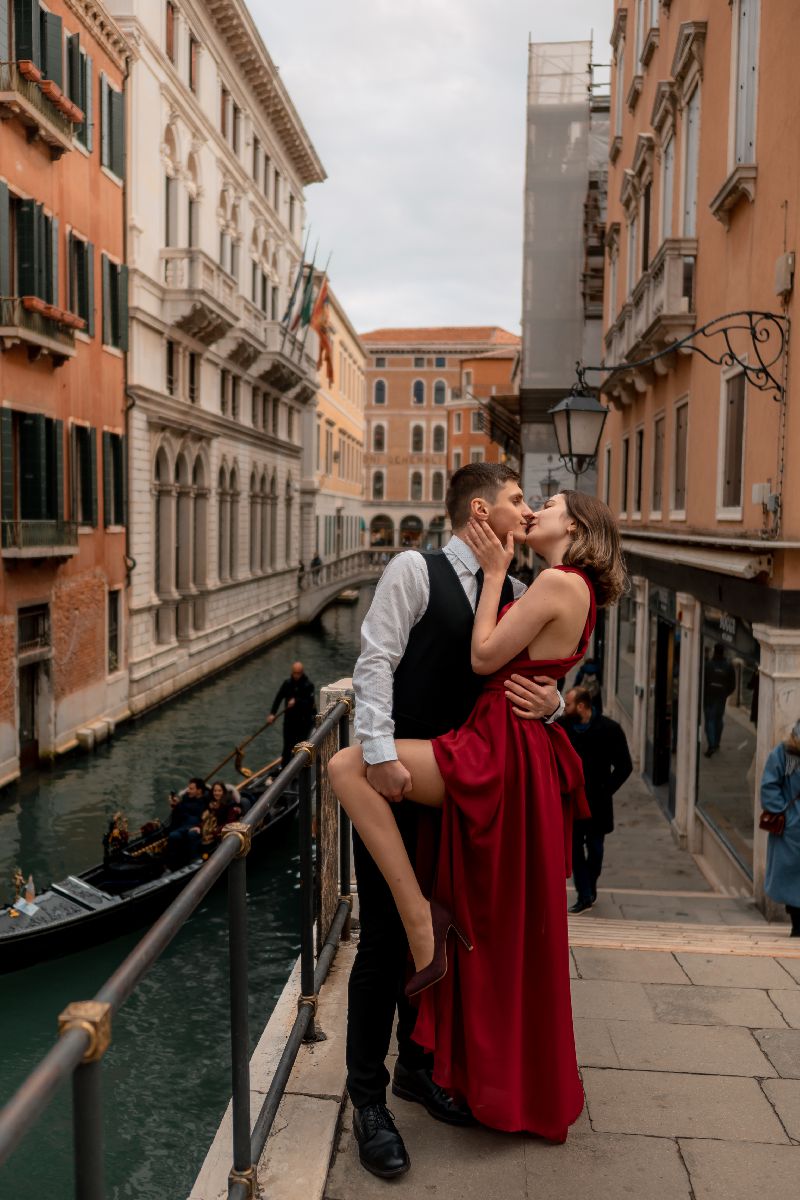 In winter you're a bit luckier and the daylight isn't that harsh
, so you can take nice photos during the day as well.
And if the weather is cloudy, it's actually amazing for a day photoshoot cause you won't have panda eyes even if you can do a photoshoot only at midday.
The vibe of nasty weather shootings in Venice is more sensual and intimate
. I honestly love it so much.
A not very popular but an extremely
beautiful option is a twilight or night photoshoot in Venice
. That's probably one of the few moments when you can feel the atmosphere like hundreds of years ago, you'll feel like in a movie. Be ready that some photos might be blurry, but the night effect makes it even more mystical and charming.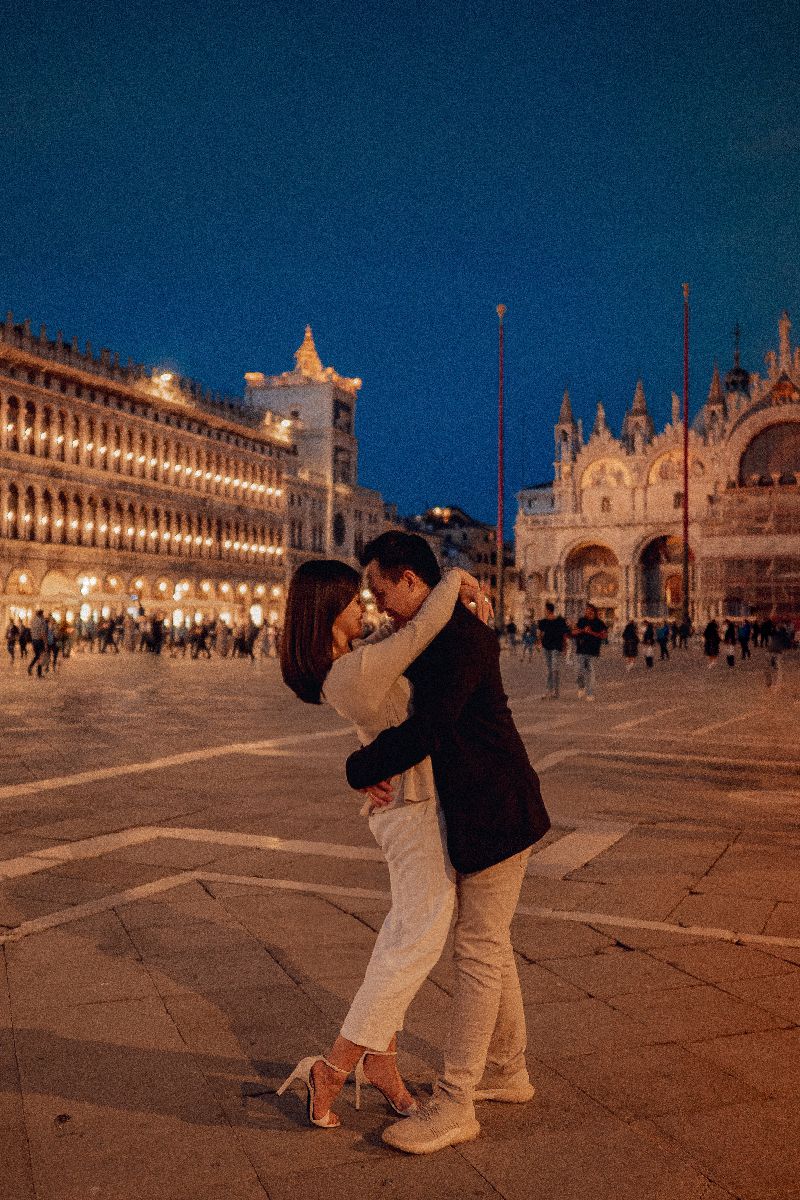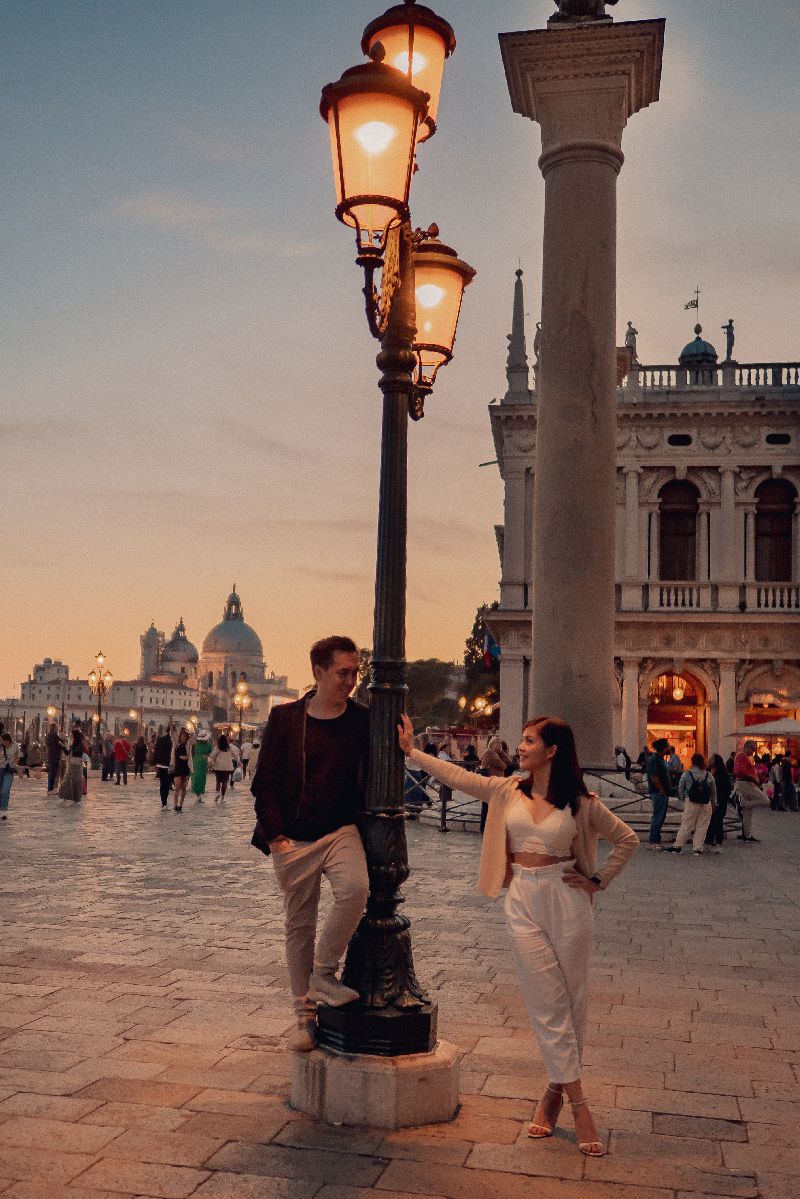 The crowd
Only at sunrise, you can really experience pure Venetian beauty
. The city will be all to yourself, we can take photos anywhere we want without thinking of thousands of tourists around. In any other part of the day, you'll have some people in your photos, but I always try to do my best to not include them as much as I can.
Now you know
when to take the best photos in Venice
. But if you're flexible with hours,
I'll help you to choose the right photoshoot time
depending on your preferable locations and ideas.
should we include gondola ride in our couple photoshoot in venice?
If you
plan to do a gondola tour in Venice
, then, yes. Otherwise, you'll have a few selfies that don't convey all the beauty of such a unique experience. Once after a photoshoot outside Venice, a couple texted me the next day, sending their
photo taken by a gondolier where their legs and the most beautiful part of the gondola were cut, what a fail
. The girl told me that this "masterpiece" photo was possible to be sent only to me as a photographer to laugh and to her mom, because mom is mom, you know.
which locations are the best for a couple photoshoot in venice?
Saint Mark's Square (Piazza San Marco) Undoubtedly the most beautiful area of Venice is Saint Mark's Square. It consists of several museums and palaces, the main church of the city, and the Venetian lagoon. Believe me, to cover all corners of the square we need from 1 to 2 hours, it's reasonably one of the dreamiest photoshoot locations in the world.

Gondolas That's a total Venetian must-do. I dedicated a whole article to the masterpiece boats, have a look for the best gondola couple and girls' photo ideas here.


View over San Giorgio Maggiore One more must-photo spot in Venice is the view over San Giorgio Maggiore island near gondolas parking. It has such a typical Venetian atmosphere, that I can't not to photograph my models there.
Bridge of Sighs (Ponte dei Sospiri) If to forget the fact that it's named this way because for the Ventian prisoners it was the last window to see the world, it's a very beautiful architectural building. However, I wouldn't recommend doing a proposal with this bridge at the background.

Florian Caffè The oldest luxury coffeeshop in Venice opened in 1720 still has a chic vibe of the time. Highly recommended to visit it. More photos you can see on the page dedicated to historic palaces.

Santa Maria della Salute church One of the most scenographic photo spots in Venice is the gorgeous Santa Maria della Salute church. It's not that easy to get a nice picture with the church, but the best ones are usually made from gondolas, Academia bridge, bars-terraces of luxury hotels like St Regis, Gritti, and Bauer, and gondola/vaporetto stations. I also like to photograph my couples from San Marco square with a little Santa Maria della Salute in the background.

Rialto Bridge It certainly has its one charm and attracts many photo lovers from all over the world.

Historical palaces and hotels Why not? Feel like a movie star in Venice, it's a super romantic idea for a photo. I dedicated a whole article to the most instagrammable hotels-palaces in Venice.

Cute bridges You can't go home from Venice without photos with cute little bridges over canals and its stairs. That's so Venetian.

Water canals The soul of Venice is in its narrow canals, further you go from San Marco square, the more you will feel like local. An aperitif with a glass of wine or Aperol Spritz with a view over the canals is a good photo idea in Venice.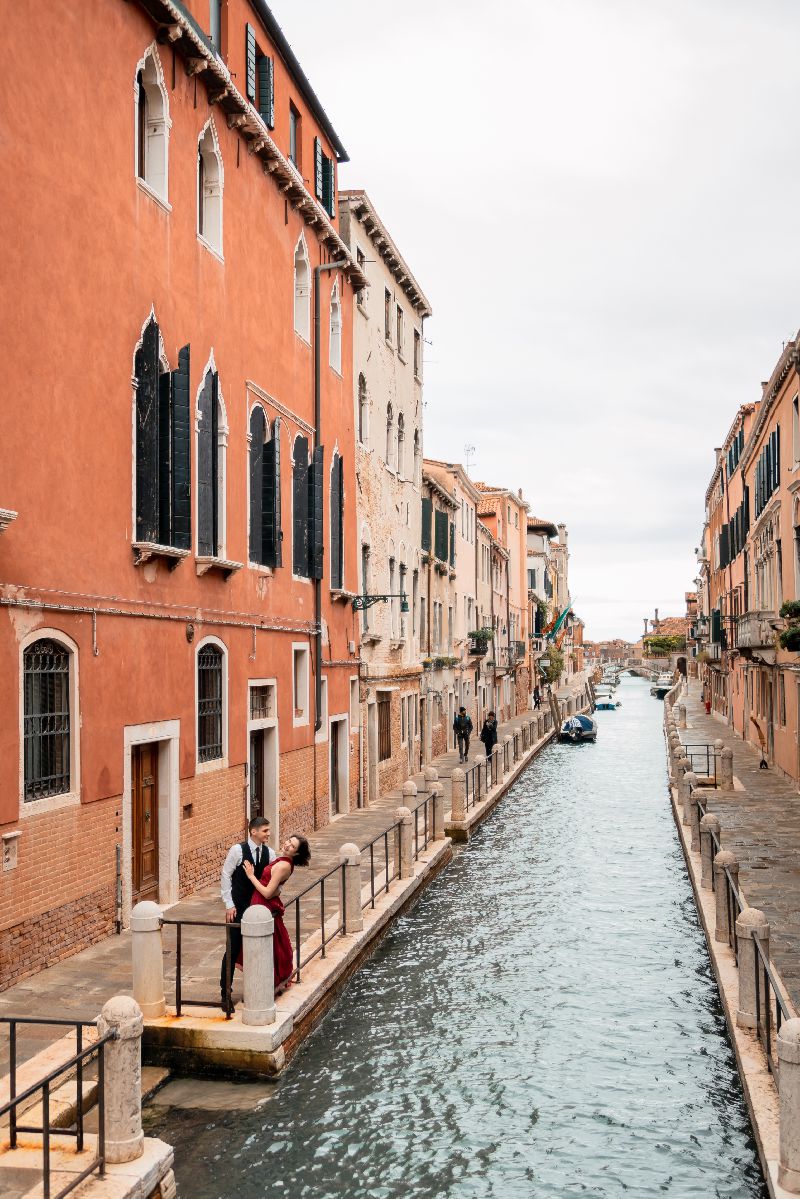 Now you know the
photo locations in Venice that shouldn't be missed during a couple photoshoot
. I'll make sure that during our photoshoot we cover all the gorgeous places in the city. Let me know when are you planning to come to Venice in the contact form below.
What do I wear to a photoshoot in Venice?
Having a fashion degree,
I'll be extremely happy to consult you on the best outfits that flatter your body and skin tone type
. My clients receive a comprehensive guide titled
"HOW TO GET READY FOR A PHOTOSHOOT,"
which provides them with specific instructions, so they know exactly what and how they should do to achieve the best photoshoot result. Once they've received the guide, I ask them to send me options from their wardrobes or local stores, and I provide feedback on what will look best in Venice. Believe me that not all beautiful dresses are ideal for photoshoots. The outfit selection is influenced by the photoshoot's concept, which we discuss ahead of time.
Overall, I prefer sophisticated attire for my photoshoots. For girls,
long dresses with emphasized waistlines always look chic and have a stunning impact in Venice photoshoots
. However, if you prefer a more casual look, that's perfectly acceptable, although it will have a different effect on the photos.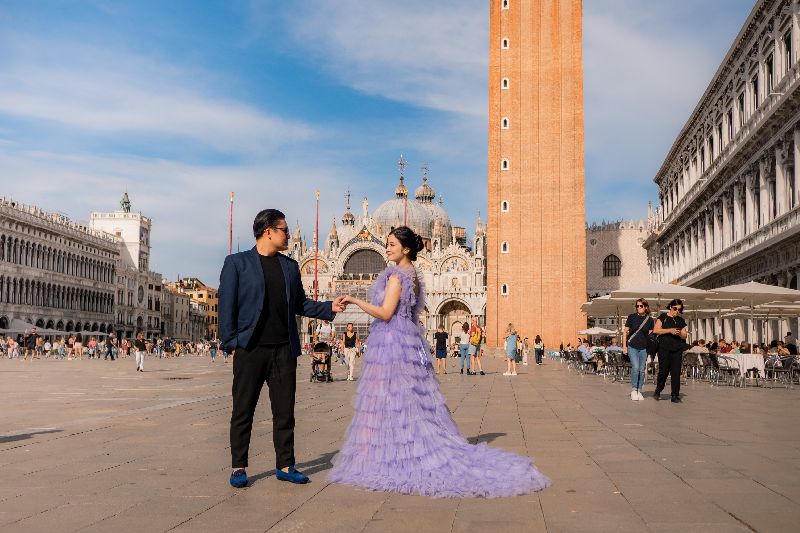 Shoes make the difference
. One girl was traveling with only two pairs of sneakers and casual clothes, but the wanted a romantic intimate photoshoot. I told her that she would never get the result she wanted in sneakers, I urgently made her buy a pair of elegant high heels and she couldn't stop to thank me. She said I was the first photographer after two previous photoshoots in Italy that explained to her that detail.
My role is to make clear what is better to wear or not to wear for your photoshoot in Venice.
My favorite
colors for a photo shoot in Venice are rich red, emerald, orange, and pink, I also recommend vibrant pastel colors for a more romantic look
. Black and white are tricky and don't look good in every photoshoot occasion. I would also avoid prints, the only ones that suit Venice well are stripes, laces, and polka dots.
Long sleeves shirts, elegant jackets, or turtlenecks are my favorite variant for men. But remember, if you have your personal style, feel brave to express it.
And don't worry, I'll always help you to choose the right outfit.
Remember, that you should feel comfortable and beautiful in your outfit. If it's a cold period, I love how scarfs and different layers look like in photos. I'm also a big fan of hats, I have a collection of them.
My tip for Venice outfits: don't be shy to choose a gorgeous dress, where to wear it if not in Venice?
And if you always dreamt of a
photoshoot in Carnival dresses in Venice
, we can do it, I know some nice places where to rent them.
why to choose me as your professional venice photographer?
Congratulations! By landing on this page, you've likely come to the realization that phone selfies don't do justice to the stunning city of love, and you're now searching for the
perfect destination couple photographer in Venice
.
Discover why you're fortunate to have found me and why I'm the right choice for your dream couple photoshoot in Venice by reading more about me clicking here
.
The majority of my
clients don't know how to pose and feel a bit awkward in front of the camera before a photoshoot with me, but with my expertise, they obtain stunning photos they're thrilled with
. Not only do they end up with gorgeous pictures, but they also acquire valuable posing skills for everyday life. Some of my more advanced couples even request
private photography lessons in Venice
to learn my tips for taking fantastic phone pictures of each other without any breakup risk.
My clients appreciate me a lot because
I know how to make couples feel comfortable during photoshoots in Venice
, you can
read amazing feedback from my clients here
.
If you really like my photography style and personality I'll be happy to catch your special moment in Venice or in any other place in Italy or who knows...all over the world!
Ready to create an unforgettable experience together? Leave me a message in the
contact form
below. Tags:
Venice Couple Photo Shoot
Venice Couple Photo Session
Venice Elopement Photo Shoot
Venice Love Story Photo Shoot
Venice Couple Photography
Venice Honeymoon Photographer
Venice Anniversary Photographer
Venice Proposal Photographer
Venice Same Sex Photographer
Venice LGBT Photographer
Venice Sensual Photographer
Vacation Couple Portraits in Venice
Venice Asian American Couple Photoshoot
Venice Couple Florian Caffee Photoshoot
Venice Gondola Romantic Couple Photoshoot
Luxury Couple Photographer in Venice
Celebrities Best Couple Photographer in Venice